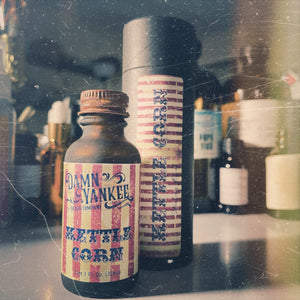 At the carnival, you always know when there's a fresh batch of kettle corn. That nutty smell of popcorn and caramelized sugar is unmistakeable. Kettle Corn may seem an unlikely scent to put in your beard, but trust us when we say this is the most fun we've ever had making a beard scent. Close your eyes, and you will not be able to tell this from the real thing. 
Smells like: Buttered Popcorn, Caramel
Scent type: Fragrance Oil
Allergy Statement: Damn Yankee Beard Company products contain oils derived from tree nuts. To request a product without tree nut ingredients or for any allergen questions, please email support@damnyankeebeard.com.